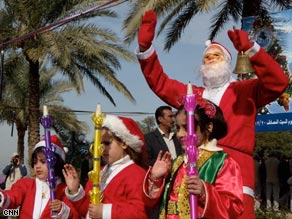 The Iraqi government has done something that American federal, state and local governments are forbidden to do. Celebrate Christmas!

The event takes place in a public park in eastern Baghdad, ringed with security checkpoints. Interior Ministry forces deployed on surrounding rooftops peer down at the scene: a Christmas tree decorated with ornaments and tinsel; a red-costumed Santa Claus waving to the crowd, an Iraqi flag draped over his shoulders; a red-and-black-uniformed military band playing stirring martial music.
In an act unseen among other Muslim nations, the Iraqi Ministry of the Interior launched a large hot-air balloon with a picture of Jesus Christ on it with the Iraqi flag flying below it. The story was covered on Hot Air including a video of the balloon.
Any similar act by an American governmental entity would have been greeted by a lawsuit by the ACLU (aka the Anti-Christian Lawyer's Union) or other liberal anti-Christian group. We have brought more freedom into Iraq than we can express in our own country.