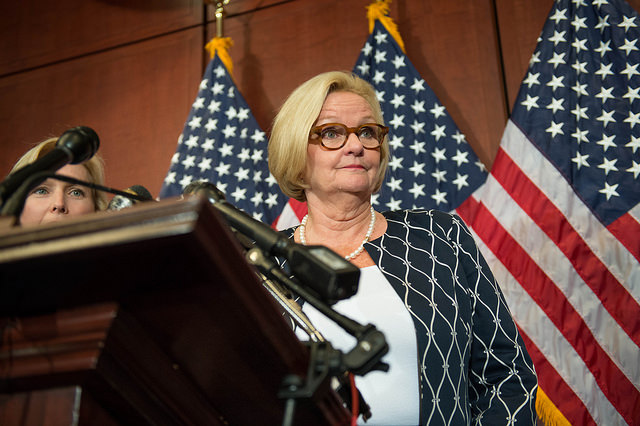 Claire McCaskill, according to some, set up Tod Adkins as an opponent and then set him up, again, to fail. She has been working with the dems in Kansas to repeat her 2012 tactic. This time in Kansas.
There are two articles that appeared today on this subject, one from FOXNews and the other in the PoliticMO newsletter.
From the FOXNewsletter, September 4, 2014:
WAPO: MCCASKILL BEHIND KANSAS CANDIDATE SWITCH
WaPo: "Democratic nominee Chad Taylor dropped out of the race for U.S. Senate in Kansas on Wednesday, an 11th hour move that could clear the way for his party to rally behind an independent candidate and potentially change the math in the battle for the Senate majority. … The move, which came on the last day for ballot changes, could clear the way for Democrats to rally behind Greg Orman, an independent candidate who has left the door open to caucusing with both parties if elected. Orman, who used to be a Democrat and a Republican, has been viewed as a more viable opponent against Sen. Pat Roberts (R), who polls show is vulnerable. Orman has been a far more productive fundraiser than Taylor."
 
[No exit? – The Hill: "Despite filing papers with the Kansas secretary of State withdrawing from the Senate race late Wednesday, Democrat Chad Taylor may be stuck on the ballot this fall. Two election law statutes have raised questions about whether Taylor gave sufficient cause to remove himself from the ballot, and, if so, whether Democrats must ultimately choose a candidate to replace him.]

Howdy, neighbor – WaPo: "Taylor, the Shawnee County district attorney, was in touch with at least one prominent Democrat in the days leading up to his decision. Sen. Claire McCaskill (D-Mo.) spoke with Taylor about dropping out of the race in order to consolidate support behind Orman in hopes of unseating Roberts, according to Democrats familiar with the talks. … In an interview with The Washington Post last week, Orman would not say which party he would caucus with if elected. He suggested that he would side with whichever party is in the majority and would consider joining both sides if he ends up being the deciding vote."
In 2012, dems clandestinely supported Tod Adkin's candidacy for Senator believing him to be the weaker candidate as compared to John Brunner or Sarah Steelman. Chad Taylor learned, to his dismay, when you're a dem and you get orders, you obey or be hammered.
Greg Orman claims to be an independent. He's not. He's been endorsed by Kansas' RINOs who refuse to support the state's conservatives. They're nothing more than liberals masquerading as 'Pubs. Orman is just another lib hiding his true allegiance to the liberal, progressive agenda. At least Chad Taylor was truthful about what he was and his agenda. Not so, Orman.
The other article comes from the PoliticMO newsletter. It mirrors the tale from FOX.
ACROSS THE BORDER — 'The Senate Race In Kansas Just Got Crazy,' FiveThirtyEight: "The past few weeks haven't produced much good news for Democrats' hopes of retaining the Senate. While their position is far from catastrophic — the Senate playing field is broad this year, and the outcome of many races is uncertain — Democrats' chances of keeping the Senate were down to 35 percent as of the FiveThirtyEight forecast late Wednesday afternoon. Part of the problem is that Democrats are almost entirely playing defense, with few prospects to pick up Republican-held seats. Georgia, where we have the Democrat Michelle Nunn's odds at about 30 percent, looks like their best opportunity. It's also too early to foreclose the possibility of Democrats winning Kentucky, but Republican Minority Leader Mitch McConnell has not trailed in a nonpartisan poll since May, and two new surveys Wednesday put him ahead.

"Kansas, however, had become an under-the-radar opportunity for Democrats. The Republican incumbent there, Pat Roberts, barely survived his primary and has extremely low approval ratings. Several recent polls had put the race in single digits between Roberts and his Democratic opponent, Chad Taylor, with the independent candidate Greg Orman getting about 20 percent of the vote. As of Wednesday, the FiveThirtyEight forecast gave Roberts an 80 percent chance of winning. That's not bad, but it's not any better than McConnell, who also has about an 80 percent chance of holding on in a race that has gotten far more attention. Late Wednesday afternoon, however, Taylor announced his withdrawal from the race, setting up a contest between Orman and Roberts. (There is also a Libertarian candidate, Randall Baston, on the ballot.)

"Why would Taylor leave the race right when polls showed it tightening? Perhaps because he and Orman share a lot in common philosophically. Based on the ideological ratings we track (more background on those here), both Taylor and Orman rate as the equivalent of moderate Democrats. Orman, in fact, ran as a Democratic candidate for the Senate in 2008, although he withdrew from the race during the primary. … There was also a recent survey, from Public Policy Polling (PPP), which showed Orman ahead of Roberts 43-33 in a potential two-way race. The same poll had shown Taylor trailing Roberts by 4 percentage points in the event Orman dropped out. If the PPP survey is accurate, this is a huge problem for Republicans. Suddenly, they're behind in a race against a former Democrat who might caucus with the Democratic Party should he make it to the Senate. … If we do program the model to treat an Orman win as a Democratic pickup, then the Democrats' chances of retaining the Senate would improve to 38 percent from 35 percent. We're going to do some further thinking overnight about how to handle the case." http://53eig.ht/Z7D6uC

WHY'S IT MATTER HERE? — 'Was Claire McCaskill in the middle of a Democratic effort to push Chad Taylor out of Kansas race?,' on PoliticMo: "Kansas Democratic Chad Taylor terminated his U.S. Senate campaign Wednesday, clearing the way for a two-way race between independent candidate Greg Orman and Republican Pat Roberts as the embattled incumbent seeks a fourth term. Taylor's exit puts the Kansas seat back in play for Democrats hoping to weaken Republicans in their quest to take back control of the upper chamber for the final two years of President Obama's term.

"The late change appears to be placing Kansas in the same place Missouri was two years ago: In the center of the political universe as an unexpected opportunity for Democrats to take a win away from the GOP in a race that was not even supposed to be competitive. Here in 2012, Democratic U.S. Sen. Claire McCaskill made a gamble to back Republican Todd Akin in the three-way Republican primary. Akin won, and the rest is legitimate history. Nearly two years later, some are asking whether McCaskill – whose political stock has been on there rise since her 2012 victory – was involved again. Wednesday night, hours after Taylor's announcement, an aide to McCaskill said she did speak with Taylor in recent weeks surrounding his decision to drop out. 'Claire did talk with Chad Taylor and was happy to,' the aide said. 'She thinks very highly of him and thinks he has a very bright political future. And she knows these decisions are both hard and personal.'

"McCaskill's involvement comes as she has been working to raise her profile as a party leader. In Missouri, McCaskill has led Democratic efforts to take back seats in the Legislature and contributed $200,000 of her own money to the cause. Nationally, McCaskill has said she will back Hillary Clinton for president. She was one of the first Senate Democrats to support the "Ready for Hillary" PAC, and has traveled to Iowa to campaign for her. Last week, the Kansas City Star reported that the former state Representative and state auditor was even flirting with a run for governor. McCaskill has made no secret her hope to be Missouri's first female chief executive. That 2016 question for McCaskill, the report noted, may have something to do with what happens in 2014′s U.S. Senate elections." http://bit.ly/1pszXdR
What goes around, comes around. This time, if McCaskill has her way, it will happen in Kansas like it did in Missouri two years ago.